This Japanese start-up has designed a wind turbine that can work in typhoons
As governments and companies globally rush to install as much renewable energy capacity as possible to cut carbon emissions, areas often not suitable for solar arrays or wind farms are opening up for development with advances in technology.
In Japan, a start-up called Challenergy has designed a turbine that works in cyclonic conditions, which typically shut down most wind installations, turning them into a potential energy source.
While renewables in general are the fastest growing source of electricity generation globally, in Japan most new renewables capacity has been powered by the sun. Only in recent years has the government started trying to promote wind, especially offshore wind.
But with Japan experiencing on average 26 typhoons and tropical storms a year, and with meteorologists saying they are getting more frequent and more powerful with climate change, the path to development of wind power is generally viewed as tough…READ ON
In the Land of Dikes, Nature Now Reinforces Flood Defenses
The world's levees are losing the battle against rising seas and overflowing rivers, so experts here want to learn how to fight smarter.
Locals in the coastal regions of northwest Europe, long known as the Low Countries, for centuries have expanded their space for farming and living with earthen barriers that hold back the saltwater and stop freshwater floods. Those triumphs of engineering now face unprecedented assault from oceans and rivers…READ ON
UN Unveils Plans For First Self-Sufficient, Floating City Immune From Disasters
As the global population increases year on year, more people are being moved to coastal cities—such as Busan—though rising sea levels and other climate change disasters, like floods and hurricanes, often threaten the safety of those living near the water.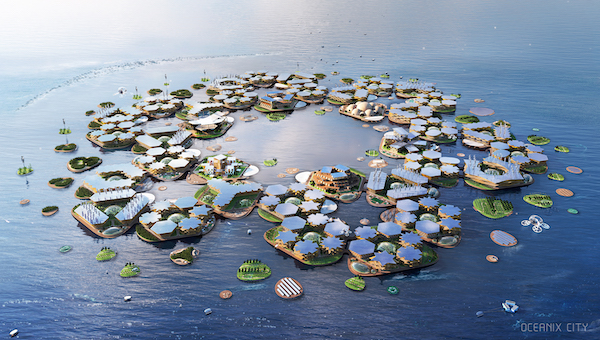 Therefore, this prototype city hopes to address these issues and develop technologies to help mitigate the risks. These new solutions could then be replicated in other regions worldwide, enabling people to be kept safe from climate change disasters, which at the moment, show no sign of slowing down…READ ON