What no one is talking about in the wake of hurricanes and oil spills
Often, the damage that extreme weather or an environmental disaster inflicts on communities works as a one-two punch. The first punch: the actual event — an oil spill, a hurricane, a winter storm, the lethal heat that scorched parts of the US as recently as a couple weeks ago. The second punch: the trauma that can persist long after the event is no more. It's this second punch that people tend to overlook or ignore.
"I don't think that there's a misunderstanding that all communities are hit the same," Robert Bullard, a distinguished professor of urban planning and environmental policy at Texas Southern University, told CNN, referring to the fact that communities of color are disproportionately hurt by extreme weather. "But I do think that when the dust clears, not enough attention is given to the post-disaster trauma that exists after the headlines are gone."
What's more, the post-traumatic stress disorder, anxiety and depression (among other things) that can occur after someone has been exposed to a catastrophic event have intensified as the climate crisis has ramped up the severity and frequency of storms and other disasters.
"Lots of the people who were hit hard by Winter Storm Uri still need to get their ceilings fixed or the sheetrock in their homes fixed, but they don't have money for repairs when they keep getting hit," said Bullard, known as the father of environmental justice. "Uri was in February, but then there was Hurricane Ida and then Hurricane Nicholas. They just keep coming. And it's very traumatic. The mental health piece is big."…READ ON
Asia's looming Black Elephant events
Asia is the most disaster-prone region in the world: from 1970 to 2016, a person in the Asia-Pacific region was five times more likely to be affected by a natural hazard compared to someone outside of the region1. As such, acknowledgment of Black Elephants is fundamental to the future resilience of this rapidly developing region.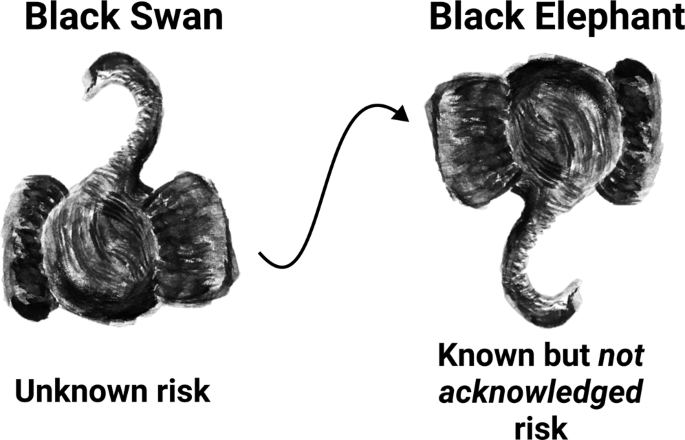 Disastrous events are often proclaimed as a Black Swan—an unlikely and unexpected occurrence. However, at a closer look, for many of these disasters, the hazard was known and understood but not addressed, and they are therefore better described as a Black Elephant (Fig. 1)2. Individuals, and in particular scientists, can make a difference by defining and drawing attention to these hazards before they occur: we should not allow known risks to be ignored…READ ON